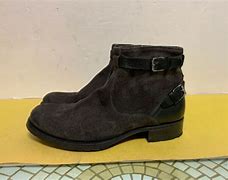 Handmade in Portugal.

NOM DE CODE
The brand name nom de code - or 'code name' - reflects our conviction that the strength of the brand is the product itself. Four key factors define every n.d.c. made by hand collection: simplicity, quality, originality and constructional know-how.
HAND CRAFTED
All of n.d.c. shoes are hand-crafted by the best European artisans using only carefully selected hides from Italy's expert tanneries. Our passion for footwear is reflected in the use of quality materials, traditional shoe constructions - blake, goodyear, sacchetto, espadrille, etc - and exquisite finishing techniques. We do our best to turn every pair into a hand made work of art.
Suede booties with inner zipper.
Causal chic!