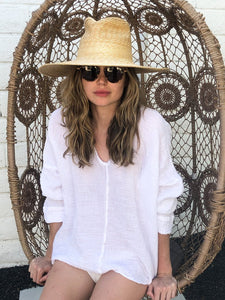 Felicite's take on the traditional V Neck is anything but ordinary. With a middle seam detail down the front with a 3/4 sleeve that rolls up. Is perfect in our lightweight crinkle fabric you'll look as cool as you feel.
Made in the USA.
Sizing:
1- X-Small
2 - Small
3 - Medium
4 - Large
The super soft Cotton Gauze is 100% Cotton. Machine wash on gentle and dry flat for best care.
Styling Tips
This soft crinkle cotton top will be your go-to summer piece! Pair with denim shorts or layer it over your swimsuit.